WIT Mentoring Program 2023
The Women In Technology community is delighted to announce the launch of a new mentoring exercise in 2023 along with the launch of our pilot mentoring circles program providing a place to share knowledge and experience between experienced professionals and those looking to build their careers.
Please note that the program is open to associated and employed members of CERN personnel only.
An Informative Meeting will take place on Tuesday, February 21st at 12:30h.
Please, register in Indico to receive the Zoom connection details.
Applications:
Mentors can apply here any time.
Applications for mentees will be published here from 1st March to 2nd April 2023.
If you find any issue with the form, please send us an email at wit.mentoring@cern.ch
Timeline in 2023:
From February 2023: Call for mentors.
March 2023: Call for mentees.
April 2023:

Mentee selection
Mentor-Mentee matching
Kick-off meeting on Thursday, May 4th at 12h30

May to December 2023: Mentoring exercise
January 2024: Survey to the participants
For any questions regarding the program, please, contact us: wit.mentoring@cern.ch
Mentoring is a relationship in which a more experienced or more knowledgeable person helps to guide a less experienced or less knowledgeable person via advice, opinions, strategies and policies focused on career or life advancement.

HR Research Institute
When deciding whether mentoring could be potentially what you are looking for at this point of your life, here are some Yes and Nos about mentoring, that might help you clarify your expectations:
Mentoring is a relationship built on the experience, knowledge and personal history of both partners (with the mentor being generally more experienced than the mentee and often in the same or similar field).
Mentees hold a proactive role and take responsibility for their own learning and development, while Mentors serve as facilitators of that growth by asking thought-provoking questions and providing insights.
A mentoring relationship is based on honest, mutual and open communication.
Mentoring is not a relationship where the mentor is in a superior position, nor being a director supervisor/manager of the mentee.
Mentees are not passively waiting to receive instruction from the Mentor or expecting that the Mentor will solve the problems, give the answers or make decisions for the Mentee.
Mentoring is not a shortcut to getting a promotion or finding a new job.
While the mentoring programme remains informal, the relationship between mentor and mentee requires commitment from both parties to exchange ideas, discuss progress and set goals for further development.
Our idea is to create a natural, safe, confidential space where issues can be discussed, guidance or a sounding-board can be offered, and where people can learn from someone else's experience who is further down a particular path. This can help develop links and ideas that otherwise might not have happened. It's an opportunity to develop communication skills, expand your viewpoints, and consider new ways of approaching situations.
The WIT Mentoring Program runs once per year from May till December. It is open to everyone at CERN regardless of the gender, background or experience. Read more below if you want to become a Mentor or a Mentee.
Our Impact:
Since 2018, 3 successful Mentoring Exercises completed
We have reached to 36 Mentees
We count on a pool of 20 Mentors
There are participants from all CERN Departments
We also collaborate with Mentors from the CERN Alumni network
We have organised lectures with Mentoring experts from organisations like ILO or University of Geneva
Mentees Quotes
"The experience as a mentee not only encouraged me to pursue a scientific career, but gave me practical advice and tools in hand to handle difficult situations and successfully increase my visibility in the community"
"Amazing opportunity to grow, develop your full potential and acquire control over the direction of your career"
Mentors Quotes
"Mentoring, for me, is about making one's own experience available to others, being there as a sounding board for them to sound out their own ideas and helping them to decode the environment in order to make the best possible choices"
"I found out about the mentoring program only last year, and I volunteered straight away. The experience was fulfilling and really rewarding. I realised that over the years, I have accumulated lots of knowledge as well as understanding of interpersonal relationships that are worth sharing. It is much more than women supporting women, it is about creating bounds and supporting each other as members of a community"
"I've been part of the mentoring program since the beginning, two years ago. This was the opportunity for me to meet outstanding people I would not have met otherwise, to share our respective experiences. I learnt a lot from them, about team work, motivation, work-life balance and more. I hope that what they grabbed from my vision and knowledge about the laboratory will be useful to them in their career, here or outside"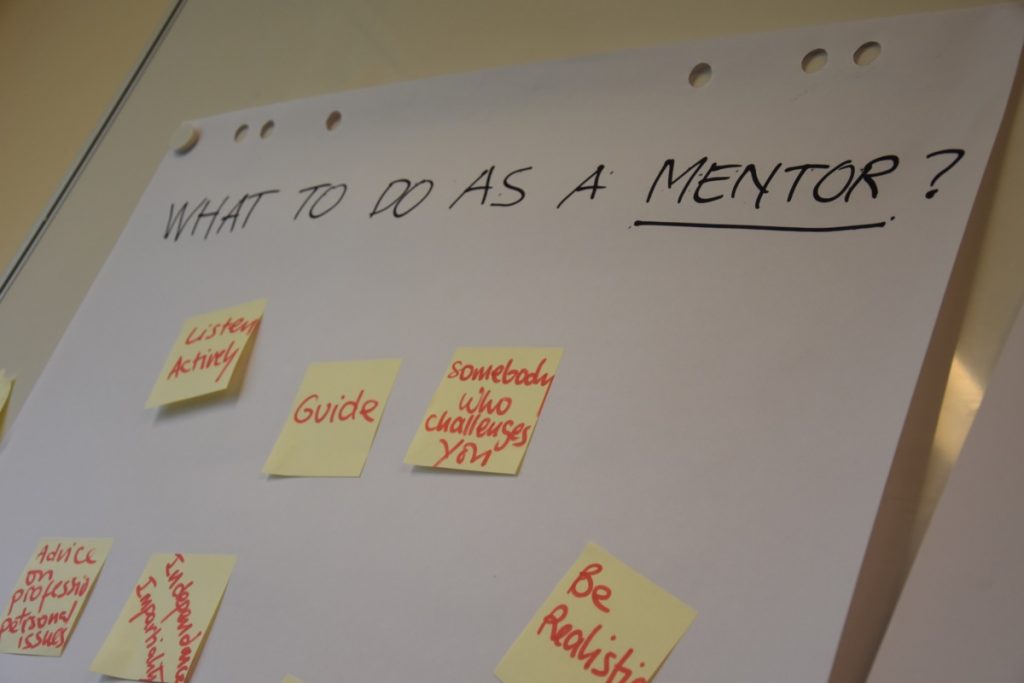 As a Mentor, you can help people to think and explore situations, while sharing ideas to find the best way forward on particular issues. You can help the Mentee reflect on options, based on your experience and help them realize their potential. You will also gain insight into how CERN and its development is perceived by the next generation.
Becoming a mentor can enrich your life on a personal and professional level by helping you:
Gain fresh perspectives and ideas
Communicate more effectively
Develop and foster your leadership and interpersonal skills
Gain personal sense of satisfaction and fulfilment by sharing your skills
Self-reflect of the lessons learned along your career path
Are you interested in becoming a WIT Mentor? Then, please, check the criteria below:
Are you a senior woman/man @CERN with more than 10 years of technical and management experience?
Are you eager to share your experiences, critical knowledge and explain how the organization works?
Are you a leader by heart willing to provide friendly feedback, offer challenging ideas and trigger self-awareness?
Do you have good active listening skills and ability to hold difficult conversations?
Can you spare around 20- 30 hours between May and December to support and inspire a Mentee?
If you can answer these questions with YES, please reach out to us here: wit.mentoring@cern.ch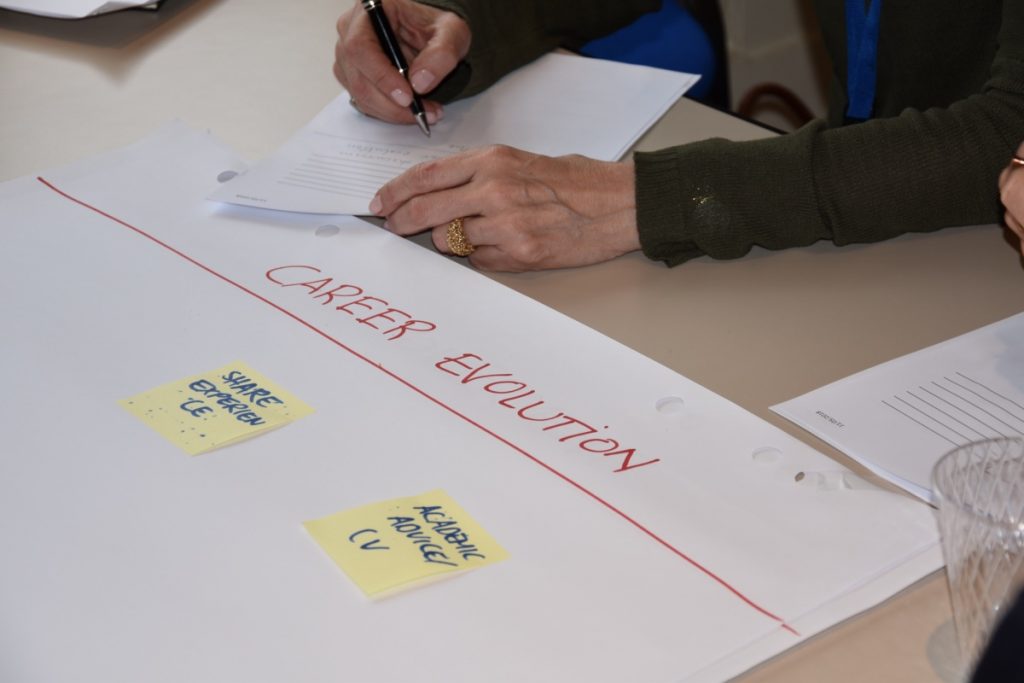 As a Mentee, you choose your own goals for this program. Anything can be discussed, from work/life balance, personnel issues relating to work, to specific "navigating CERN" acumen; WIT aims to help match the Mentors and Mentees based on who could best help achieve the goals. For Mentees, some key benefits of mentoring might include:
Improving communication skills
Building confidence and interpersonal skills
Receiving experience-based knowledge and advice
Guidance on professional development
Creating a pathway to personal and professional growth
Are you interested in becoming a WIT Mentee? Then, please, check the criteria below:
Have a go-getter, self-starter mentality
Are ready to commit to "doing the work" between May and December
Want to set clear personal and/or career goals
Are willing to learn and accept feedback (positive AND negative)
Have confidence and self-belief
Our Mentoring Program is open for all CERN categories of personnel, no matter your position, area of expertise or goals (career development, workplace relationships, career transition…) – your motivation is what matters!
General questions about the WIT Mentoring Program
How often do you open the applications?
Applications are open once a year, usually in March, with the selection being done in April. Mentees and mentors work together normally from May until December.
How do you match mentees with mentors?
WIT Mentoring Committee is organizing the selection and matching based on the mentees' goals and objectives and the available mentors' profiles. We read all the application and always try our best to do the matching in a way that would benefit both mentees and mentors.
What kind of commitment should I expect? How often should I meet with my mentee / mentor?
While we do not specify any minimal requirements for the frequency of meetings, it is advised to schedule and keep at least one or two meetings each month at the beginning of your mentoring relationship. Plan each meeting for around one hour. After first few months meetings may become less frequent /shorter and should occur as needed. We advise you to never leave a meeting without confirming your next meeting.
I am not in Geneva 100% of the time – can I still apply and meet my mentor / mentee virtually?
Yes, you can still apply if you prefer to have all (or most of your meetings) in virtual format. Please specify it in your application.
Where is the best place to meet with my mentor / mentee?
While an informal setting, like a coffee place or terrasse, might be a nice change from the daily grind, some mentoring couples prefer to meet in a more confidential space, like a conference room to avoid any distractions. If it is not possible to meet in person, you can also use Zoom or any other videoconferencing software.
What should I discuss with my mentor / mentee during our meetings? How to set an agenda?
During your first meetings you should focus on getting to know each other, your background and experience and on defining and understanding mentee's goals. Once you have identified the goals and objectives, you should work together to develop action steps for each mentoring objective.
WIT Mentoring Committee will provide you many resources to get you started and is always available to help you in case you get stuck.
Do I have to participate to the whole programme (from May until December)? / Can I terminate my relationship sooner? / Can I work with my mentor longer?
Of course! Mentoring is a volunteer activity and either party can end the relationship for any reason at any time with no fault assigned. Any decision to end the programme sooner, should be discussed between mentor and a mentee in an open way.
Beyond the May – December timeline, mentoring relationships can continue based on the mutual interest of both parties. Officially, the program comes to an end in December, but we've had many mentoring couples that have decided to continue well past the end of this formal timeframe.
My mentee / mentor is skipping meetings / is not committed / comes unprepared to the meetings. What can I do?
In any mentor-mentee relationships, normal priorities can often change when something arises in a person's life, without the other person knowing, which can create issues. WIT Mentoring Committee is committed to provide support and guidance for mentors and mentees in case of problems in collaboration or communication. Should there be an issue that either of the parties is not able to successfully communicate with a mentor/mentee, please let us know asap. We will respect your concern and seek to learn as much as we can about the context and issue in question.
If, after resolving and explaining the issue, you feel that you would like to continue the mentoring relationship with another mentee/mentor, we will try do the necessary where appropriate. Alternatively, should you wish to take a break/terminate your mentoring relationship, let us know and we would do the necessary.
For Mentees
Do you choose all the mentees who apply?
We try to do our best to find a suitable mentor for all the mentees, however our ability to do so often depends on the availability of mentors and on the goals and expectations of mentees. The mentee application form does not serve as a competitive selection mechanism – quite the opposite, it helps us to match and connect the most suitable mentor to each mentee.
Is the application open to men?
Yes, the applications are open to men, although women are preferred in case there would be not enough mentors to accept all the applications.
I am not searching for career mentoring -can I still apply?
Of course. There is a space in the application to explain your goals and what type of mentoring you are searching for.
We cannot guarantee that we will be able to find you the mentor according to your expectations, but we will do our best!
I want to have a mentor, but I do not want my supervisor / colleagues to know and find out about it– can you guarantee confidentiality?
The selection and matching results are not available publicly and only the WIT Mentoring Committee has access to this data. After the matching, all the e-mail communication is done via closed e-groups (separate for mentors and mentees). Besides this, WIT organizes several meetings for mentors and mentees, but it is up to you if you decide not to participate. Once you start working with your mentor, it is up to you to agree on a level of confidentiality you want to maintain, and WIT provides you with a Confidentiality Agreement template that you can fill up for your own records.
I have very specific requirements for my mentor's experience and background – can you make sure that you find someone available according to my needs?
Though we try our best when matching mentors and mentees, we cannot unfortunately guarantee that we will be able to find you a mentor exactly according to your needs. In such specific cases, we would contact you in person to discuss your expectations and the background and experience of a mentor we would have chosen for you. You could then decide whether you'd like to give it a try or decide to withdraw your application.
For Mentors
How can I become a mentor? What experience / qualities do you seek in mentors?
We search for senior women and men @CERN (with more than 10 years of experience) with technical and management experience and with good skills in active listening, providing friendly feedback, offering challenging ideas, sharing critical knowledge, triggering self-awareness, inspiring their mentees and explaining how the organization works. If you are interested in becoming a mentor or have more questions, please reach out to us at wit.mentoring@cern.ch
Is there a space to exchange ideas, best practices with other mentors?
Each year we create a mailing list with all the mentors, which you can use. As of 2020, we also collaborate with the CERN Alumni group and there is a dedicated group in the Alumni portal for mentors.
I am afraid my mentee does not find my advices / our meetings useful – what can I do?
It is very natural to struggle with finding your own mentoring style and it is very common that mentees and mentors do not immediately "click" and find a common ground, which is not necessarily a fault of either of the parties. We find an open communication to be the basis for any successful relationship, so we would advise you to communicate your concerns to your mentee to understand your mentees point and to discuss what can be changed and how can you support your mentees needs and objectives. WIT Mentoring Committee is available to assist you in case of need.
What is the difference between coaching and mentoring?
Please, check these notes to know more about the difference between coaching and mentoring.
Check the WIT Mentoring Resources we have compiled in this document. It contains useful links to existing manuals, tips and tutorials for both mentors and mentees.